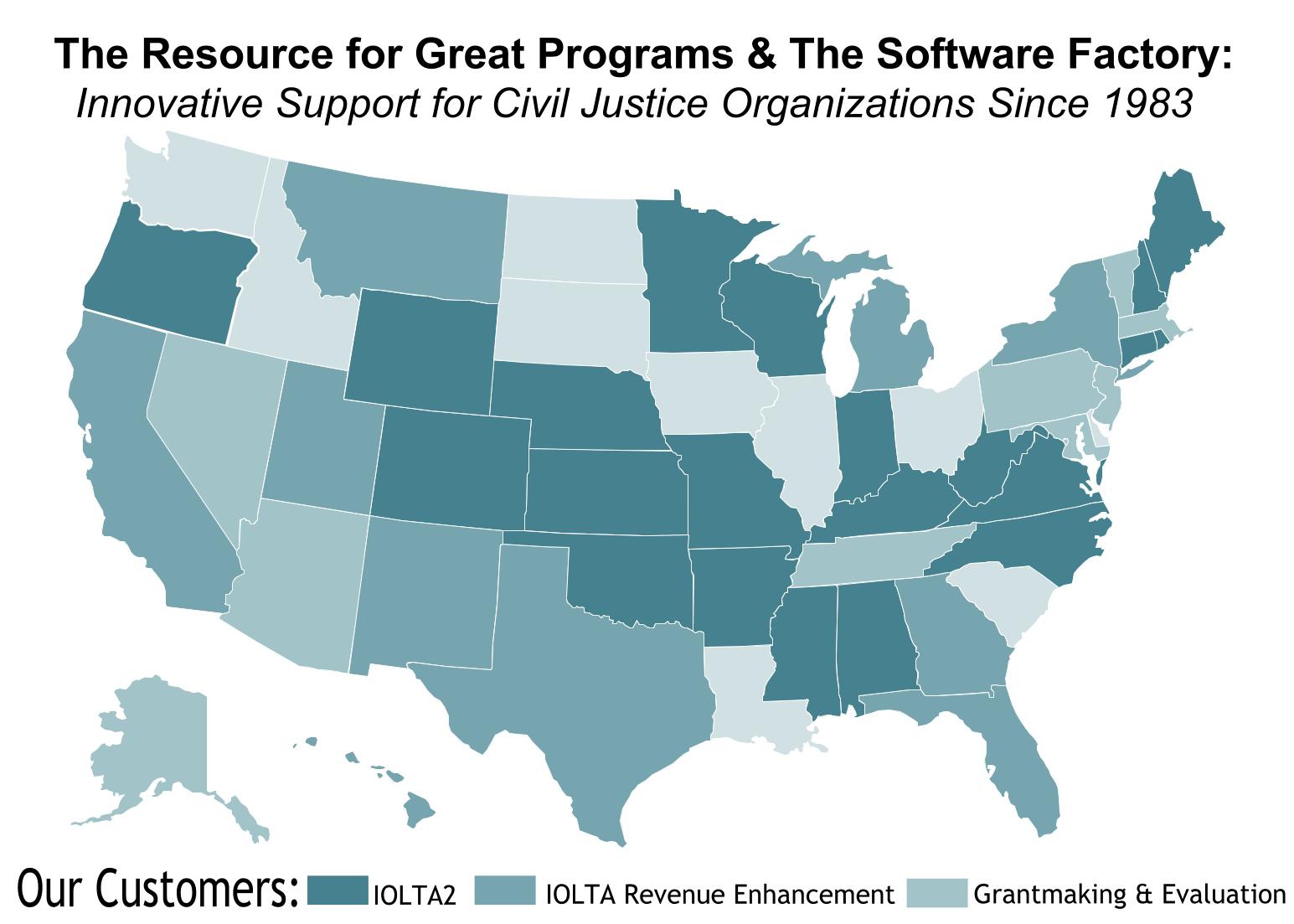 We power great IOLTA programs with great tools!
In 2009, our parent company – The Resource for Great Programs, Inc. – acquired The Software Factory and its IOLTA2 database software from founder Roger Lilavois.
Day-to-day technical and programming support for our customers is provided Komenge. Research and development – including the integration of the IOLTA2 software with the methods and tools of "IOLTA Revenue Enhancement" – is provided by Ken Smith, founder and President of The Resource for Great Programs.
The Software Factory and The Resource provide an array of tools for maximizing IOLTA revenues.
For over two decades, our parent company, The Resource for Great Programs, has pioneered the field of "IOLTA revenue enhancement". We have helped America's leading IOLTA programs to maximize IOLTA interest rates and minimize bank service fees. Prior to the collapse of interest rates in 2008, the cumulative ANNUAL INCREASE in IOLTA revenues that resulted directly from our work surpassed $200 MILLION.
Leading IOLTA Programs That Use IOLTA2:
Alabama Civil Justice Foundation
Arkansas IOLTA Foundation
Colorado Lawyer Trust Account Foundation
Connecticut Bar Foundation
Indiana Bar Foundation
Kansas Bar Foundation
Kentucky IOLTA Fund
Legal Services Corporation of Virginia
Maine Bar Foundation
Minnesota Lawyer Trust Account Board
Mississippi Bar Foundation
Missouri Lawyer Trust Account Foundation
Nebraska Lawyers Trust Account Foundation
New Hampshire Bar Foundation
North Carolina State Bar Plan for IOLTA
Oklahoma Bar Foundation
Oregon Law Foundation
Rhode Island Bar Foundation
West Virginia State Bar
Wisconsin Trust Account Foundation
Wyoming State Bar Foundation